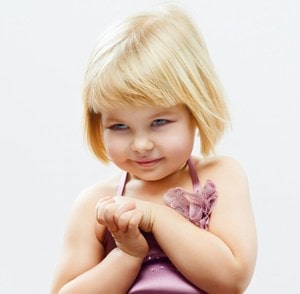 The sassy hairstyle which promises your baby girl a stunningly gorgeous look. It is a bob cut with longer hair on the sides giving the old retro style a contemporary touch. The back is shorter and the front is longer.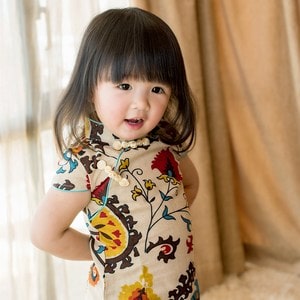 We are all very much aware of this wonderful haircut which has been in fashion since ages. Short and stylish, this is one of the most popular hairstyles not only with adults but also with baby girls. Keep it simple yet very classy with a smartly done bob haircut.
This is known to be the maintenance free haircut for children. If you are looking for a hairstyle that
doesn't need any setting up or take care then tom boy style is the best of all. Set her hair free and save all the time that goes into managing them.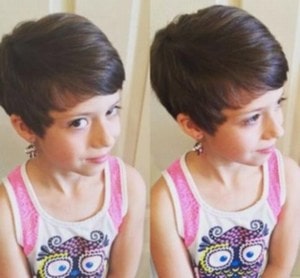 Yet another choice of easy to go hairstyle for kids. It requires no management or everyday styling as it is short and hassle free. As a mother, you can ease your daily routine with short pixie as you don't have to set her hair for parties or outings.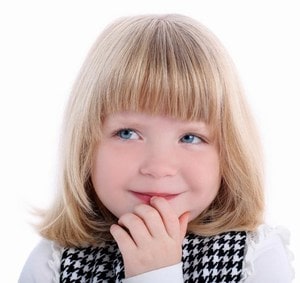 We know it as the popular Sadhna Cut. The front hair are cut into bangs and ensure that your little one looks the cutest. They are short enough so that they don't fall into her eyes. It is definitely the most adorable hairstyle for baby girls which goes well with their princess look.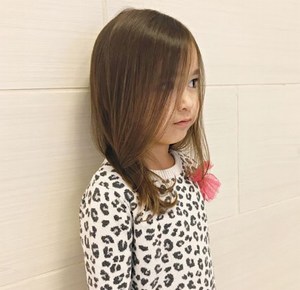 Always the best and the simplest of all haircuts that has been favourite of all the mothers. For girls who want to keep their hair long, long blunt is a good choice. It is usually shoulder length and promises easy pony tail.
If your little darling has thin hair with a feathery texture then this is the best choice of hairstyle to give her. This will not only make her hair easy to manage but will also make them look a few degrees denser.
If your girl enjoys fashion then you can have here hair streaked in some colours that are close to the colour of her original hair. This will add more style to her simple hair. But make sure that you take proper care of coloured hair.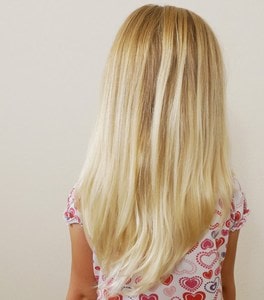 If you don't mind experimenting a little with your baby's hair then this is a cool hairstyle to try. She will look really very smart flaunting a fashionable haircut. If you are concerned about her hair going very short, keep the length medium and don't worry as hair grow back quick in case of kids.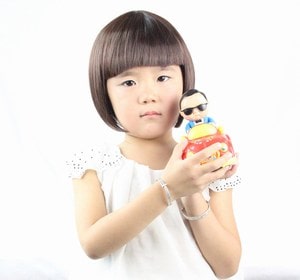 Want a hair style that is short, easy to manage and also stylish? Then short blunt is the style that will suit all the needs. Especially if your girl has heavy and dense hair, with short blunt, they will become very much manageable.
For all the girls who have curly hair, layers is a wonderful idea. It not only promises easy manageability but also reduces the volume of curls by cutting them into layers. Your princess will look amazingly adorable in this unique style.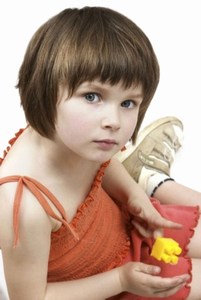 The evergreen bob cut looks all the more stylish with fringes. Let those hair fall on her forehead with a smartly done bob hair cute. And when her fringes grow back, it is time for a new hair cut or just pin them up.
For girls who have reasonably long hair, it is a good idea to go with smooth layers. The beautiful locks are cut into layers to keep the bounce and make hair easier to manage. And when she has to go for a party, just let them loose with a floral headband.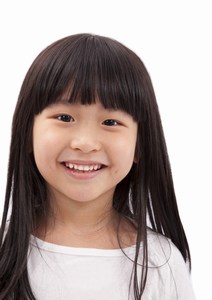 If your princess has long hair then to keep it simple and just like a princess is to have it cut straight with beautifully done fringes. She will definitely steal all the limelight. You can leave her hair open or make a high ponytail which will go with all kinds of dresses she loves to get dressed in.
For a baby girl who has long hair, you can give her hair a tapering cut which will maintain her length and will have a nice finish on the ends. It is an easy to do haircut. Make braids or ponytails and she will look superb!!!